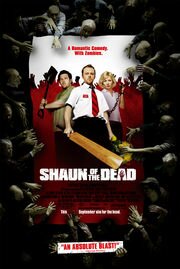 I finally finished writing this post that I started just after Halloween – not because it is long or complex but simply because other things were more of a priority. Anyhow, back in October and in the spirit of Halloween, we had decided to rent a Halloween movie that was somewhat kid-friendly. Our selection ended up being Shaun of the Dead, a 2004 movie. Don't worry, I haven't turned into a movie critics and I won't pretend this movie ranks anywhere in my top 3,000 favorite movies – that's not the point here – but the movie made me realize how many (most?) employees are zombies.
"What the heck are you talking about?", you ask.
I'll spare you the gory details but there's a scene at the end of the movie were the zombies end up being captured and turned into normal workers. The scene is great as it portrays the zombies perform mindless (and numbing) tasks while people around them don't seem to notice them or even mind them at all.
[You may also be interested to read what Shaun of the Dead movie, once a living is bitten by a zombie, there is a gradual decline toward becoming a full-fledged zombie.
Although not measured scientifically, I believe the majority of the working population (between 40% and 60%) are LIVING-DEAD.
Can ZOMBIES and LIVING-DEAD transform back into LIVINGS?
Contrary to the movie, the LIVING-DEAD and the ZOMBIES can come back to becoming LIVING individuals but the road back is difficult. The sad news is that most large organizations are based on rules, on controls and on structures that help breed ZOMBIES by converting LIVINGS into LIVING-DEAD. The good news is that there are ways out – I know, I used to be a ZOMBIE myself…
What category do you fit into?